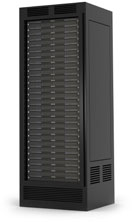 SFTP is a secure protocol often overlooked when investigating secure file transfer on the Internet. Also know as Secure Shell File Transfer (over SSH), this protocol establishes a secure file transfer channel over a single port (TCP 22), allowing you to upload and download files just as you would with FTP.
Although some standard FTP client programs do not support SFTP/SSH file transfer by default, there are many freeware tools out there that do...

SFTP is a great way to get up and running with secure file transfer on your FTP Hosting and all of our packages include this feature as standard. If you would like to find out more, please visit our dedicated FTP Hosting section.
If you have any questions relating to secure file transfer, SFTP/SSH or would like to discuss your online storage requirements, please feel free to contact us.