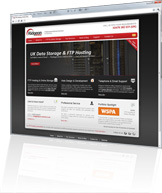 We are delighted to have launched our new website today featuring new services and all new information about our FTP Hosting and Online Data Storage solutions. This improved site features updated information and content on all of our services. We've also vastly improved the structure of the site to allow for quicker access to in-depth information and support.
Specific highlights of the new website include...
This new version of our website also features our new blog (which you are reading!) where we will be posting articles relating to company news but also tips, tricks and articles relating to services we provide and general Internet service news.
We hope you like the new website, find it useful and informative. As always, if you have any questions, feel free to get in touch. We look forward to hearing from you!