Welcome to the first of our new 'Feature Focus' blog posts where we will cover in more detail individual features of our FTP Hosting server packages to meet your Online Storage needs.

All of our FTP Hosting packages include the ability to create virtual paths or virtual folders/directories. A virtual path allows you to create a folder within a user's home folder that does not physically exist as a folder. Instead, the folder is a shortcut or pathway through to a folder stored elsewhere on your FTP Hosting. On our system Virtual Paths do not require any additional software at the client-side and do not show any differently to physical folders, so your file structure is transparent to your users.
The advantage of  virtual path's is the ability to give access to a particular area of the system that usually a user or group would not be able to navigate to. For example, Customer A and Customer B have their own isolated user areas on your FTP Hosting so that when they login they only see their own files. But you also want Customer A and Customer B to be able to access a 'common area' with press resources in. Your FTP Hosting file structure as a whole may look like the following..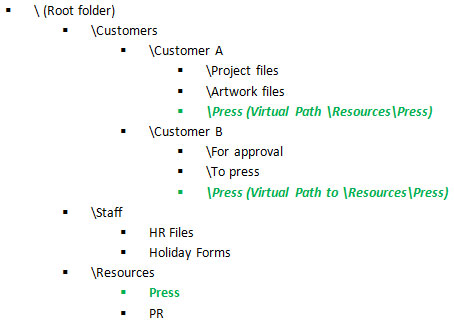 Using Virtual Paths, Customer A and Customer B can now access the Press folder without having access to everything else on the system, or even being aware that other folders/directories like 'Staff' or 'Resources' exist.
Virtual Paths are the ideal solution if you need to keep your users isolated but also need to share other files on your structure without making multiple copies to each user's home folder.

Interested in a free trial of our Secure FTP Hosting services? Please complete our 14-day FTP Hosting Trial form and we'll have your business up and running on our network same day. If you would like more information on Virtual Paths or our FTP Hosting packages, please do not hesitate to visit our dedicated FTP Hosting pages, give us a call on 02476 382031 or Contact Us.