A picture may paint a thousand words but in the digital world images and pictures consume far more than that in data storage. Sending those files across the Internet needs more consideration than sending a simple text-based email. There is where FTP Hosting and Online Storage become very useful. As the number of megapixels on cameras increases, the size of a single professional photo file is often way beyond the point where attaching to an email will suffice, let alone if you are using RAW image formats to retain original quality.
Aside from the ability to send your larger digital photo files to others, our FTP Hosting and Online Storage services offer the ability to improve how you organise, store and distribute photos and files to your customers. For example, with our FTP Hosting services, you can set up individual username and password accounts for your clients (using our web based admin control panel), giving them complete user isolation from others. Depending on the type or customer or client, that user can then login via FTP or via the Web Based panel to view and download their photos. Maybe you have a print supplier that needs to download your files in bulk, or maybe a customer from a wedding would like to login to preview which files they would like in their album? - the web based panel provides all this functionality directly from their web browser.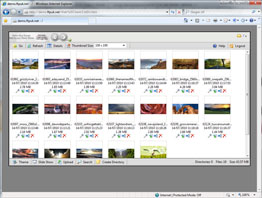 Specifically for photographers, the web-based panel works great for allowing customers to view thumbnails and previews of your photos without the need to download the larger versions. Also, having your photos storage on our online storage infrastructure provides you with an additional backup of your data should you have a hard drive failure or your storage card corrupts.
If you are interested in tracking the usage of your online storage and which files have been accessed, you will find our RMS Reporting and Monitoring System extremely useful. This web based reporting system allows you to view reports and audit trails of all user activity on your storage and can generate email or SMS notifications upon specific events - maybe you want to know when your print supplier has logged in and downloaded a set of photos? For more information on FTP Hosting auditing and reporting, please check out our dedicated page.
Interested in FTP Hosting and Online Storage services from Ridgeon Network?

If you have any questions about our FTP Hosting products or Online Storage Services for business, please do not hesitate to contact us, complete our online enquiry form or give us a call on 02476 382031. Remember, we also offer a free FTP Hosting 14-day Trial if you want to test out our services. If you are ready to go, check out our packages and pricing page, place an order and we will have you up and running same-day!