"The Cloud" - We've all heard this relatively new buzzword but we've all probably been using The Cloud without realising it for years. So what does Cloud Computing mean and why is it useful in terms of FTP Hosting and Cloud Storage?
Cloud computing focuses on providing a solution to an IT or business problem using a service rather than products, be them software or hardware. With that brief overview, you will probably realise that most services you have been accessing over the Internet for the last few years have been in "The Cloud" all along. The term has become more prominent as full software products have been developed/converted to work online as if there were local. A common example would be Google Docs where your office software runs from the browser rather than purchasing software that runs on your PC.
In the past most of the time you will have been connecting to an FTP Hosting service across the Internet and have been using FTP client software such as FileZilla. Whilst this is still very useful, our FTP Hosting services provides a secure web panel (over HTTP or HTTPS with SSL security). The common fact with any method of connecting to our Online Storage services is that none require you to know where or how your data is stored, that entire technical layer is taken away, meaning you do not need to invest in your own expensive server equipment and infrastructure.
As a UK business with a focus on security and business-level service, you have the luxury of not having to worry about the required networking and equipment whilst also having the piece of mind that your data is safe and secure.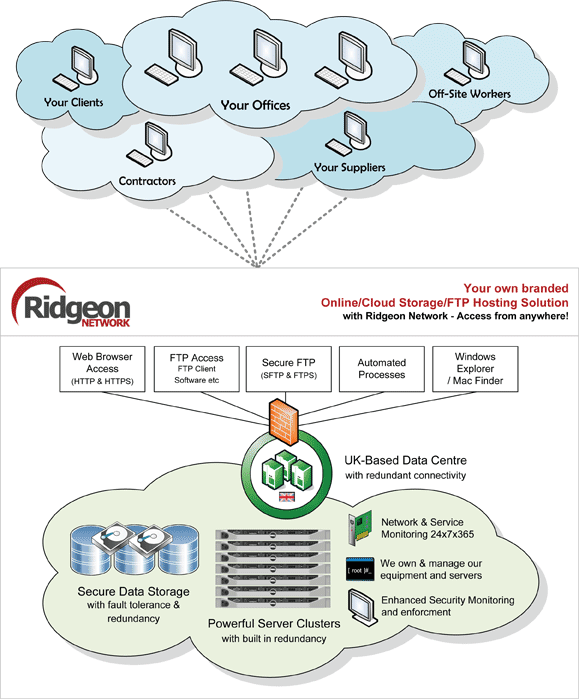 If you are looking to set up a secure Cloud Storage solution, give us a call on 02476 382031 or drop us a line via our contact page and we will be happy to put a quotation togeather for you. We also offer free 14 day trials to potential customers who are interested in our services, simply complete the form online and we will get you up and running same day.