Amongst other FTP Clients, we've been using FileZilla here at Ridgeon Network for many years. Like many software applications, there are so many features that you may never use unless you go hunting around in all the menus, sub menus and settings tabs. However, we discovered how using FileZilla's 'Concurrent Connections' settings can ensure you get the absolute maximum out of your office broadband connection.
Particularly when you are uploading many small files in a queue, it can be hard to sustain a high speed of transfer while all the FTP commands are transferring in between files. By changing FileZilla's 'Maximum Simultaneous Transfers' option, you can transfer up to 10 files at once meaning you almost always max out your connection and transfer your queue as fast as possible.
How To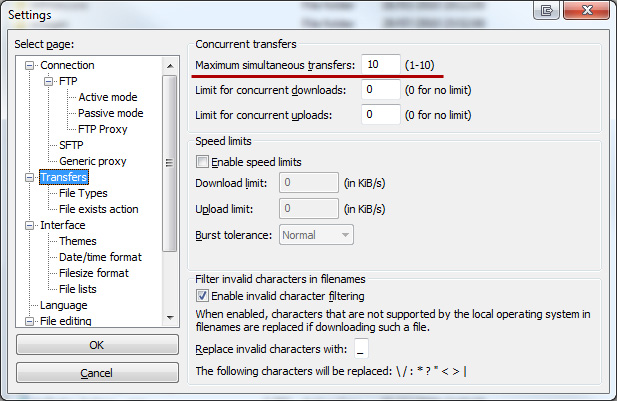 Fire up FileZilla, choose 'Settings' from the 'Edit' menu
On the left hand menu list, choose 'Transfers'
Under the 'Concurrent Connections', the first option allows you to change 'Maximum Simultaneous Transfers'
Change this up to 10 to see a vast improvement in multiple file throughput
Click 'OK' to apply the changes
Put a list of files in your queue and you will see up to 10 progress bars uploading/downloading at once.