Secure Managed File Transfer (MFT) - UK based with support included.
Not technical? Want a quick explanation?
- All our MFT/FTP Hosting/Online Storage packages support Secure & Encrypted transfer of your data. Your service with us is full managed meaning you do not have to get involved with complicated equipment/firewall setup or configuration - you also have access to our UK based technical and business support by telephone and email.
Click here to view our packages and pricing
or request a
14-day free trial
. Feel free to give us a call on
02476 382031
to discuss your requirements.
Your colleagues and clients need to access to business data no matter where they are and email is usually not up to the job. MFT Hosting (Managed File Transfer) is the ability to have your own dedicated file distribution and sharing service that allows you to send data between your stakeholders without the need for your own equipment or software. Whislt providing platform independant methods of sharing data such as Web Browser upload/downloading, our MFT/Secure FTP Hosting packages also encompass the common protocols your clients or automated software may be familiar with using (FTP, Secure FTP, FTPS to name a few!).

Let us take the hassle out of Online Storage with Managed File Transfer (MFT Hosting) and remove any need to make changes to your business network of infrastructure. We also include telephone and email support with all packages meaning you have access to our UK based business-level expertise. Not only will we support your technical needs but we are also happy to disucss any requirements you have for transporting data across the internet, maybe you want to work in a specific way or have a system that needs integrating.
Ridgeon Network also offers a full Reporting and Monitoring System for your MFT Hosting with us, this means you are able to audit usage of your Online Storage and set up alerts/notifications for events. All these features as well as a UK based infrastructure that we own and run make Ridgeon Network the obvious choice for your managed file transfer solution.
Pricing and Ordering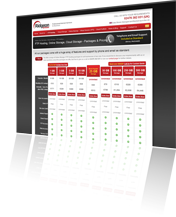 It's all included - no additional charges! - View Packages.
MFT Hosting is part of our Secure FTP/Online Storage services and all of the access methods above are included in all of our packages. Simply visit our Packages and Pricing page to choose a package which meets your space requirements and we can have you up and running same day.
We also offer a 14-day trial if you would like to try out our service, simply fill out our FTP Hosting Trial Request form.
Got questions? Give us a call.
We're happy to discuss your requirements no matter how technical you are, feel free to give us a call on 02476 382031 or drop us an email.