Secure FTP Hosting for your business, supporting SFTP, FTPS and Secure Web Panel over HTTPS - UK based with support included.
Not technical? Want a quick explanation?
- All our FTP Hosting/Online Storage packages support Secure & Encrypted transfer of your data. Your users may ask for SFTP, FTPS or a Secure Web Panel to access via their browser - We support it all and it comes at no additional cost.
Click here to view our packages and pricing
or request a
14-day free trial
. Give us a call on
02476 382031
to discuss your requirements.

All of our FTP Hosting packages include the ability to access via Secure FTP as standard. This includes access over SFTP (port 22, also sometimes called SCP or SSH File Transfer), FTPS (standard FTP wrapped in SSL encryption, similar to secure websites) and via our Secure Web Panel over HTTPS.
We understand that is a lot of Acronyms, but what this means is that your business can provide secure data access to your clients via many encrypted methods. For example, some of your clients or suppliers may insist on the use of SFTP to transfer data to/from your company. Others may not support or have the ability to use SFTP or FTPS but are happy to use the Secure Web Panel through their browser which requires no additional software.
Additionally, our Secure Web Panel provides encrypted access over HTTPS using the same technology you see in your browser when you connect to your online banking service and we supply a signed SSL/HTTPS certificate meaning there is no additional cost to you.
Using Secure FTP Server Hosting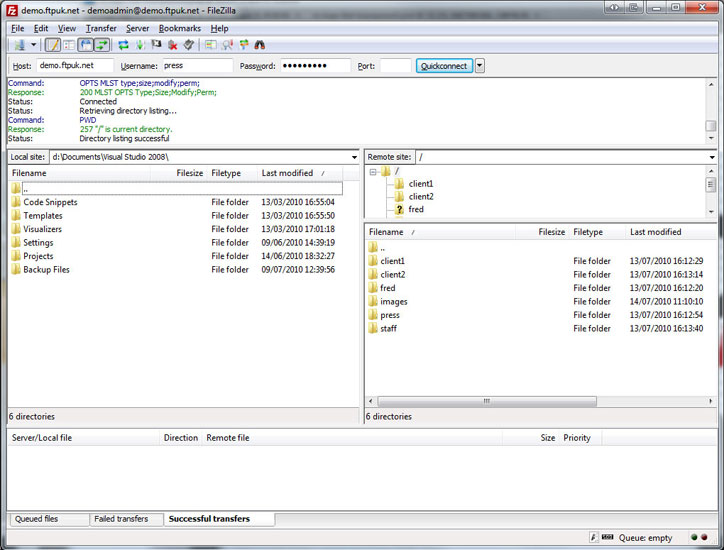 SFTP is becoming increasingly popular due to it's ease of use and encryption. SFTP uses a single port (TCP 22) and consequentially quite firewall friendly. Many software packages support SFTP however in our honest opinion there are two free products that stand out from crowd.
FileZilla FTP Client (free) - Supports SFTP, FTPS and Standard FTP.
WinSCP Client - Supports SFTP, FTPS and Standard FTP. Plus, offers a command-line and scripting interface if you wish to automate operations.
FTPS
FTPS uses SSL to wrap your FTP session and encrypt your data. FTPS offer two methods of invoking security, 'explicit FTPS' allows legacy FTP clients to connect to the system in addition to FTPS connections where FTPS may not be supported by the client, 'implicit FTPS' enforces the use of SSL encryption and this is not compatible with FTP software that is not 'FTPS aware'. We support both methods and can turn on/off protocols to meet your requirements.
Our recommended software for FTPS is the same as above for SFTP as they are both superb clients and free!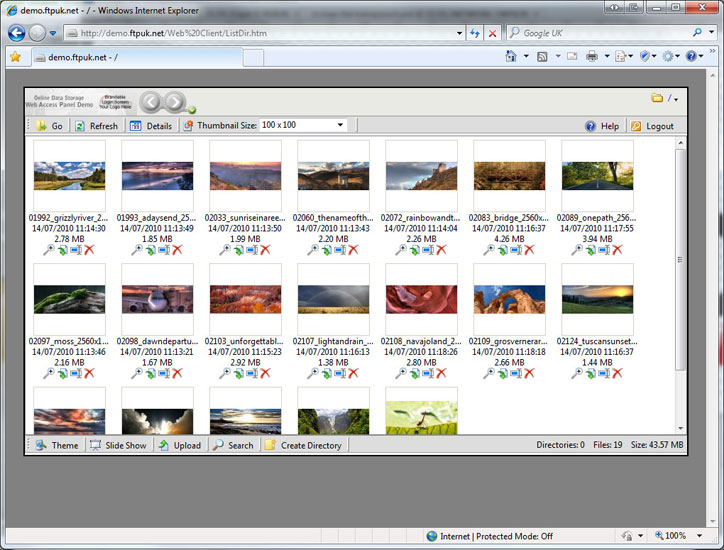 The great advantage of using our Secure Web Panel over HTTPS is that it is almost always supported by everyone's computers as your users simply access via their web browser. The simply web interface allows users to download, upload, manage files and view thumbnails of img without installing any additional software and is compatible with all major browsers and operating systems.
We provide all our customers with their own web address to access their web panel and provide to clients, we also issue each customer with a static IP address which means you can point your own domain name at our service, providing you with an additional level of branding (on top of logo and HTML/CSS customisations).
Pricing and Ordering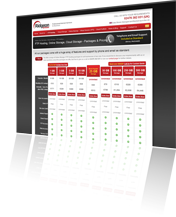 It's all included - no additional charges! - View packages.
Secure FTP and all of the access methods above are included in all of our FTP Hosting and Online Storage packages. Simply visit our Packages and Pricing page to choose a package which meets your space requirements and we can have you up and running same day.
We also offer a 14-day trial if you would like to try out our service, simply fill out our FTP Hosting Trial Request form.
Got questions? Give us a call.
We're happy to discuss your requirements no matter how technical you are, feel free to give us a call on 02476 382031 or drop us an email.