FTP Hosting for Business - Secure Online File Storage for your data. Share and exchange data with colleagues and clients with isolated access.
Hosted in the UK in our professional data centre environment.
FTP Hosting services from Ridgeon Network provide you with Secure Online Storage for your business. Our Business FTP Hosting Packages include a full online control panel for you to provide secure and isolated access to your online data. Store, share and distribute any volume of files within your company, branches and with your customers.
See our FTP Hosting example uses page to see how our wide-range of customers use our Online Data Storage services to improve their communications with clients.

---
FTP Hosting & Online Storage Features
Scalable storage capacities from 1GB to 4TB (over 4000GB) and beyond.
Same-day setup - We'll get you up and running right away.
Internet 'cloud' based storage – secured storage that can be accessed worldwide, hosted in our secure UK data centre.
Dedicated static IP address, giving a single point of access dedicated for your business.
Brandable login screen and welcome messages so users can identify with your familiar company brand.
Multiple Access Methods - Upload and download files using any major Web Browser (HTTP and HTTPS), FTP, Secure FTP (SFTP and FTPS) and SSH File Transfer.
Full administration panel to manage your users, their access, permissions and a whole host of other options and features.
Isolate your users - Allocate users to their own 'home folder' meaning they are not even aware other files exist in your storage, they only see the files and folders you want them to see.
Enterprise-Level Security & Virus Scanned Storage - Enterprise security hardware and storage devices scanned with industry leading Anti-Virus.
UK Based Servers – Hosted in our enterprise-level Data Centre.
Telephone and Email Support - Direct Email and Telephone Support included as standard.
Reporting, Auditing and Monitoring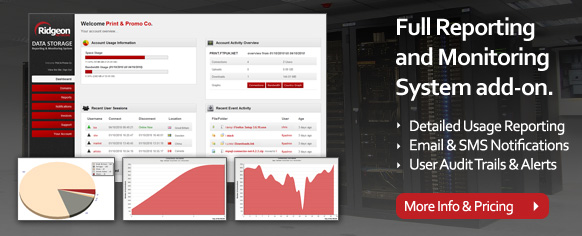 Use our Secure Reporting and Monitoring System (RMS) to produce detailed reports and audit trails for your Online Storage and FTP Hosting. In addition to detailed usage reporting, you can eaisly setup email and SMS notifications for your Secure FTP Hosting package. To find our more about our Online Storage Reporting and Auditing System, view the dedicated page here, or give us a call.
---
To look more in depth at our FTP Hosting services, select an option on the right to view further information.
If you would like to speak to with us about your requirements, feel free to give us a call and we will be happy to help. If you are ready to order you can order our FTP Hosting services online or over the phone.